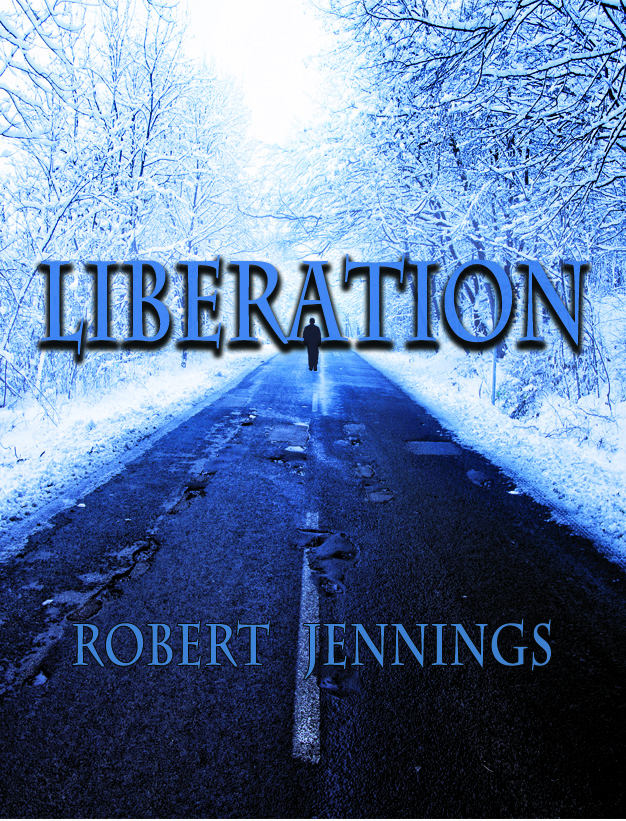 I'm delighted to announce that just in time for the end of the world, author Robert Jennings has released his post-apocalyptic science fiction novel, Liberation. I caught up with the amiable and talented Mr. Jennings to ask him all about his novel and the writing life. I hope you have as much fun reading this as I did interviewing him.
CK: As we all know, the world's coming to an end on December 21st, so we may as well not bother to buy Christmas presents. In view of this, your science fiction novel, Liberation, is very timely–an apocalypse occurs on 12/21/12 in which the world is overrun by green-skinned creatures called orcs, and only small groups of people manage to survive. Apart from the impending end of the world, can you tell me what else inspired you to write this particular story?
RJ: I first heard about the Mayan end-of-the-world "prediction" shortly after Y2K disappointed us. I think that was what first got me thinking about the story, and the reason for the date of the invasion in the book. I've always loved post-apocalyptic stories. It's fascinating to see how different storytellers portray the aftermath. Plus, I've always been a small-town boy. I like the atmosphere and the camaraderie, and I really wanted to portray that as much as I could. And I played a ridiculous amount of Dungeons & Dragons in my youth. I always liked the orcs.
CK: One thing I really love about Liberation is the protagonist. I found it refreshing that John Potter is an Everyman with whom we can all identify, not a superhero. In battling the orcs, he demonstrates courage and devotion to his people, as well as a sense of humour. Are there particular people in your life—or characters in literature—who inspired your protagonist?
RJ: That's very kind of you to say. What I was looking for out of John was exactly that Everyman feel. I like to imagine that the choices John makes in the book are what most of us would choose, given the circumstances. Of course, after getting feedback from readers in the early stages, I realized that I put a lot more of myself into John than I had intended. People kept telling me, "That's a ridiculous decision. Nobody would ever do that!" As for his inspirations, I drew a lot from Richard Cypher in Terry Goodkind's Sword of Truth series. I loved the down-to-earth feel of the character, even after he learns that he is, for all intents and purposes, a superhero.
CK: The book's about an invasion that very nearly wipes out the human race, but it's about much more. What do you see as some of the core ideas of the book?
RJ: The main one, I think, is family–and the lengths to which we would go to make sure they're safe. In that regard, I really identified with John. I can't imagine anything that I wouldn't do for my kids. That's one of the things that made the book really fun to write.
CK: The citizens of New Lamar, which the book centres on, have adapted to their devastated world by developing skills, such as blacksmithing, that are largely obsolete in Western society. They are also a remarkably cohesive group of people. How do you think present-day humans would cope in such a post-apocalyptic society? Would we do as well as the people of New Lamar?
RJ: That is a question that I've given way more thought to than is probably healthy. In fact, I may have started calling myself a writer in order to justify the inordinate amount of time I spend thinking up end-of-the-world scenarios. I think, of course, that it would go pretty badly for a good while, but eventually the people who survived would pick up and rebuild. I think that's part of human nature. We're always looking to make things better for ourselves and those around us. That, or we'll all end up killing each other over canned beans.
CK: What would you like readers of your book to take away from it?
RJ: Honestly, just entertainment. When I sat down to write the book, I didn't have any lofty goal in mind, aside from "Let's see how this plays out." If someone finds a message there that resonates with them, awesome, but it wasn't intentional. If the book entertains you for a couple of days (or hours, if you're my daughter), then I've accomplished everything I've set out to do.
CK: You work with another writer, Thomas Clark. Most people think of writing as quite a solitary pursuit. What's it like to collaborate with Thomas, and what are the two of you working on right now?
RJ: It's interesting, to say the least. Tommy has been my best friend since before he could even read, so working with him is great. He's an incredible storyteller, and he has a shrewd eye for plot holes. I think that putting the words themselves to paper is something that is best done alone, but I couldn't imagine having put this book together without Tommy's help. Incidentally, he did the cover, which I think is fantastic.
Right now, we're working on his first book. The working title is Rogue's Phoenix, and it's the beginning of an epic fantasy series in a world of his creation. The world is populated by people who fall through rifts from other worlds and are forced to try to make the best of it. It's been incredibly fun to collaborate on, and it should be ready for release first quarter of next year.
CK: Can you tell me a little about your history as a writer? How did you get started? What keeps you going?
Well, here comes the clichéd "I've been a writer since all the way forever ago." Which is true, to an extent. I've always loved writing, but I had never really considered it as a career choice. I liked robots and spaceships too much. The story for Liberation has been bouncing around in my head for about ten years. I even tried getting it down on paper once, but it was horrible. So, I shelved it until about five years ago, when I was deployed to Baghdad with the US Air Force. It was also about this time that I started working with Tommy on Rogue's Phoenix. I had a little free time on my hands, and the story poured out in about two months. Then came the incredibly fun process of submitting the manuscript to agents and publishers, only to get rejected time and time again. So, again I shelved it. I was glad that it was written, but didn't really have any plans to do anything with it, since it obviously wasn't good enough to publish. Earlier this year, I got laid off from my job and my wife was like, "Why don't I go to work while you focus on your writing." That was when it first really clicked for me that I might be able to actually be an author. And that's also what keeps me going. If my wife believed in me enough to risk financial ruin, I must have something going for me.
CK: Do you have any advice for beginning writers?
RJ: Don't give up. If you aren't accepted by an agent or a publisher, don't be discouraged. Publishing is changing, and you don't need them anymore. You can do it all yourself if you feel inclined. Except editing. For that, you need Caroline. A caveat, though, is that you'd better have a strong manuscript. Editors can help, but it's ultimately up to you to write a good story.
CK: Now that Liberation is finished, what's next for you?
RJ: That's a good question, only because there are so many things on my plate that it's hard to keep them separated. Priority zero is Rogue's Phoenix. We've got to get that one ready for publication before the end of March. I would like to have the sequel to Liberation done (yes, there's a sequel–isn't there always?) by the end of June, and the book that I wrote last month for NaNoWriMo is tentatively scheduled for September, but it'll be a side project while we're working on the second Rogue's Phoenix book. And then I'm going to Disneyland.
Liberation is now available as an e-book on Amazon. And if you're so inclined, you can chat with Robert Jennings and Thomas Clark on their Facebook page.